:: Welcome to the Web site of Fercar Europe
Here it will be able to find information about our company and our products, along with the best supplies and new features of the market.
We specially invited to him to visit the pages of our catalogue that gathers the last new features that confirm that persistence of work and constant update. In addition it will be able to consult lists of credits of our products and to thus obtain more complete and detailed data of each one of them.
Because in Fercar we continued betting by a work in Quality: quality in the product, quality in the service, the best thing than the world of the tools can offer.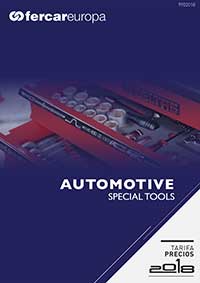 Catalog Price List 2018
Últimas noticias
02/07/2018:


"Estimado cliente, le informamos que a partir del 2 de Julio de 2018, entrará en vigor nuestra nueva Tarifa 2018
16/03/2017:




Esta semana estaremos en la MOTORTEC AUTOMECHANIKA en Madrid del 15 al 18 de Marzo, de 10:00 a 19:00 horas.

Nos podéis encontrar en el pabellón 4 stand C18.

Os esperamos!!!
22/04/2015:


Estimado cliente, le informamos que a partir del 4 de Mayo de 2015, entrará en vigor nuestro catálogo nuevo.

FERCAR EUROPA S.L.
Pol. Ind. de Piadela, 2 Sur
Parcela 8 B - 15319 Betanzos
A Coruña (Spain)
T. 00 34 981 77 07 65
F. 00 34 981 77 64 36